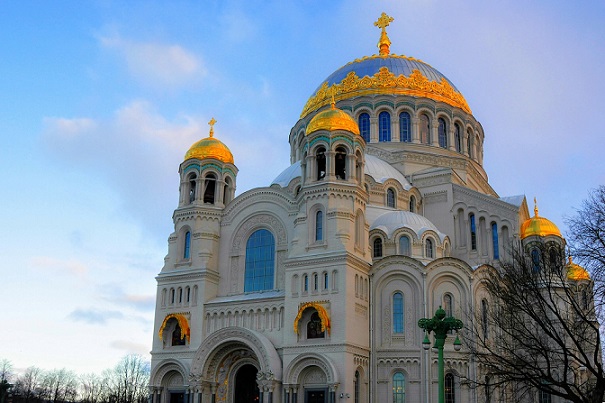 Tour to Kronstadt - city of Russian naval glory & Naval Cathedral (Duration 5 hours)
Now you have a unique opportunity to visit Kronstadt, the city of Russian naval glory. In the Soviet times it was a closed city and it was possible to get there only with the special entry permit.
Kronstadt town was founded in May 1704 as a marine outpost of the capital. Its location is Kotlin island, the Gulf of Finland. During this private tour you will see magnificent Naval Cathedral (1913) by Kosiakov recently restored, the monument to Admiral Makarov, Italian Palace, monuments to Bellinsgausen, Popov, Peter 1, Pakhtusov.
Your individual guide will show you a dam connecting the island of Kotlin with the mainland, the Harbor of the port with the Navy ships, marinas, Peter's docks, bypass canal, guns of Catherine II, the Italian Palace, defensive Forts.
During the tour you will also learn about more than 40 round-the-world expeditions that were sent from Kronstadt. For example, the first Russian voyage around the world headed by Kruzenshtern.
The Naval Cathedral of St. Nickolas
One of the main stops in the tour will be the Anchor square, where you will see the Naval Cathedral of St. Nicholas – the largest of the sea cathedrals of the Russian Empire!
the Naval Cathedral bears the unique mission – to serve as a Cathedral of naval glory of Russia, to collect naval relics, to keep memory of seamen-heroes. About a thousand names of naval officers who died from 1695 to 1918 in naval battles were inscribed on the memorial boards inside the Cathedral.
You will get acquainted with its amazing interior decoration.
"The navel of the Earth"
The licensed St. Petersburg private tour guide you'll show you "the navel of the Earth".
This is how Yuri Gagarin the first cosmonaut in the world, once called the Kronstadt footstock (hydrometer lath )that is located at the Blue bridge.
The Kronstadt footstock is the zero point of the entire leveling system of Russia, it is from here that all the depths, heights and orbits of spaceships are counted. The footstock in Kronstadt is one of the oldest in the world.
Please have a look at our guests' testimonials
Contact us. Please write the date of the tour, language, how many people, your wishes. We'll reply you soon.