Up
St. Petersburg private guide
I am St. Petersburg private guide Maria. Graduated from the Theatre Academy in Leningrad, I have the higher art historian education and certificate of the guides-interpreters school at Intourist.

Our company "St. Petersburg private guide" is a team of experienced and licensed tour guides. I and my colleagues will conduct fascinating tours of St. Petersburg, Pushkin, Peterhof and other suburban parks and palaces for individual tourists, big groups and cruise ship passengers. Our company is officially authorized to provide VISA-FREE shore excursions for cruise passengers. We also can organize tours in Moscow or any other Russian city for you.

Excursion can pass in Russian, English, Italian, German and other languages. All of us have been working in tourism for more than ten years. We have licenses of all museums of St. Petersburg and accreditation of Committee of Culture at administration of St. Petersburg. We worked for many well-known travel companies of the city. We will make for you the interesting program for one or several days taking into account your wishes. Prices are given for the tours in English.

We will order vouchers (pre-booked entrance tickets) in the museums granting the right of an entrance out of turn. We conduct tours for children and also can work as your personal assistant-translators. Transport order: car, minibus, bus and transfer. Evening entertainments: booking of the theater tickets and evening programs with folk show.

All prices are valid for English language. To check prices for other languages please send request.
Choose the tour (click the left menu) and contact us.
Book he most popular tour. All the "must see" attractions (except Wednesday)
City tour + visit of Peter and Paul fortress + Peter and Paul cathedral +Grand Ducal dormitory + St. Isaac's Cathedral + the Spilt Blood by car (minivan) (Duration: 5 hours)
The guide will meet you at your hotel. Within this City Tour you will drive along the most popular sights of St. Petersburg such as the

Palace Square with Winter Palace, St. Isaac's Square, Menshikov Palace, Academy of Fine Arts, Point of Basil Island, Arts Square, University, Point of Vasilievsky island, Egyptian Sphinxes.

You will drive along the main street of our city

, Nevskiy Prospekt

.You will see the

Bronze Horseman, monument to Nickolas 1

, our legendary

Cruiser Aurora

. At the most beautiful places we'll make photo stops. Inside visit:
Peter & Paul Fortress, Peter & Paol cathedral + Grand Ducal dormitory

-
All the Russian tsars from Peter the Great to Nikolas 2 are buried here.
St. Isaac's Cathedral - one of the largest domed buildings in the world that was the main Orthodox church of the Russian Empier. St.Isaac's is named a «museum of minerals», because it is decorated with rare sorts of marble, malachite, lapis-lazuli and porphery.
The Spilt Blood church

-

it is really unique, because it is decorated with 7000 square metres of mosaics.
| | | | | | | |
| --- | --- | --- | --- | --- | --- | --- |
| Group size | 2per | 3 per | 4 per | 5 per | 6 per | 7 per |
| Price per 1 person US $ | 170 | 130 | 108 | 94 | 86 | 80 |
Included: guide service, car (minivan) with professional driver, museum tickets
Please contact us if tou want to book this tour. Write the date of the tour, language, how many people, your wishes. We'll reply you soon.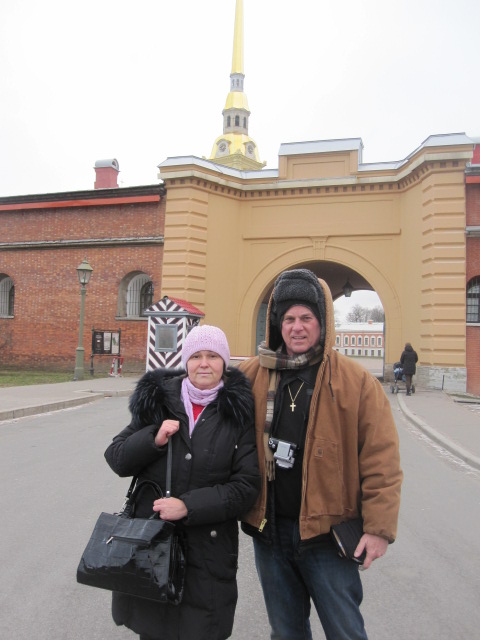 Peter and Paol fortress
Bob Beemer - one of the most famous and respected sound engineers in Hollywood, who has been nominated for 7 Academy Awards and received Oscars for Dreamgirls, Ray, Gladiator and Speed.He was working on film Viy 3D in Moscow and decided to visit St. Petersburg. The city really impressed him, he had always camera with him and took pictures without stop.
« I could not imagine that St. Petersburg is so beautiful. It's amazing city. I should turn back to make a movie here».
He was also inspired by the Hermitage. On the photo Bob Beemer visits Peter and Paul fortress, where members of Romanov dynasty are buried.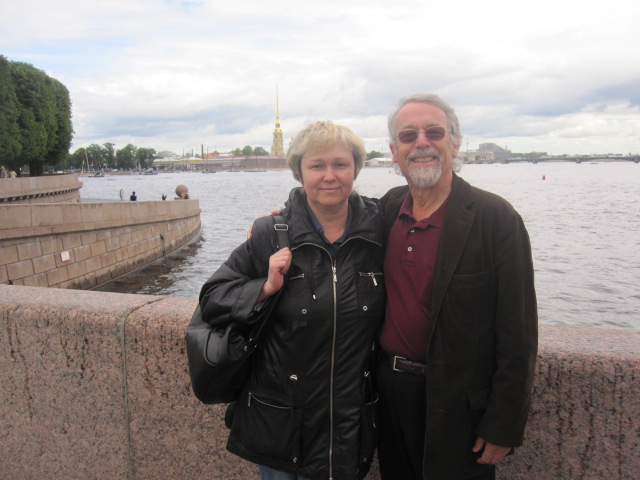 City tour and Peter and Paol fortress
Neil Rackham the world famous writer and speaker on marketing and sales, author of many books three of his books have been on the New York Times best seller list and his books have been translated into 50 languages visited the city with Saint Petersburg private guide. He was impressed by the beauty of the city and especially by the Hermitage.
"I have seen magnificent palaces with stunning decorations and remarkable collections of arts in museums. But have not seen all this together. It's very rare to have all combined: the magnificent Palace with beautiful interiors and fine collection of works of art in it. This is truly wonderful. I'm impressed by the gracefulness of the Neva, harmony of its embankments, monuments and stunning mansions".
In the picture Neil Rackham is at Vasilievsky island, the largest of the city. This spot is called the arrow or point of the island. The commercial port was here in old times. In the distance there is the Hare's island and the fortress.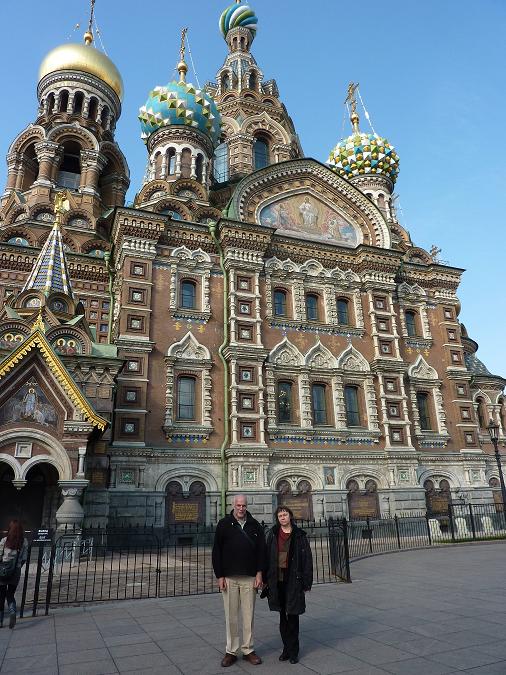 The Saviour on the Spilt Blood church
Neil Mccoy (Australia):
"Hi Maria.Thank you again for your guiding duties. The tour was excellent. I have attached the two photos of us, outside the church. Regards. Neil Mccoy."
Choose the tour and contact us. Please write the date of the tour, language, how many people, your wishes. We'll reply you soon.

No deposit 100% Private tour only
Excellent value for money Your safety
Skip-the-line tickets All entrance fees and taxes included
Rich experience Comfortable AC vehicles