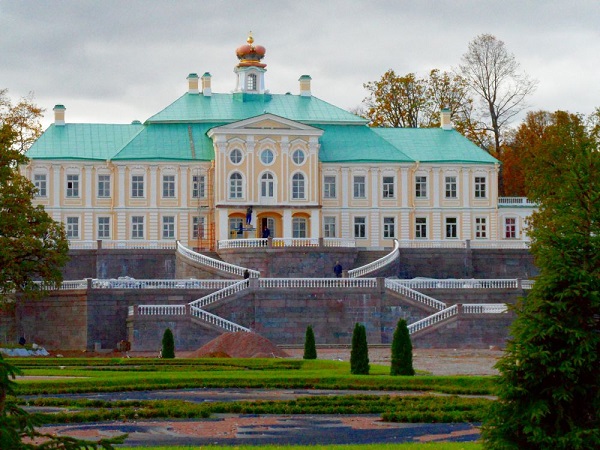 Oranienbaum - a country residence of the Royal family, included in the UNESCO list of cultural monuments is located on the southern shore of the Gulf of Finland just 40 km from St. Petersburg!
This is the only one of all country residences that was not destroyed during the great Patriotic War and has preserved its absolute authenticity! Accompanied by the private guide you will visit the beautiful interior rooms of the Grand Menshikov Palace, an unprecedented luxury which once surpassed even Peterhof!
The palace is named after its first owner Alexander Menshikov – close associate of Peter the Great and one of the richest men in Russia. Later this palace became the property of the royal family. Above the roof of the Palace still stands a tiny tower-Belvedere, where Menshikov could see Kronstadt through a telescope. The majestic appearance of the Palace, its Grand scale and rich interiors still cause admiration and surprise.
You will see the Stone Hall - pavilion, built for concerts and masquerades of the Grand couple - the future of Peter III and Catherine II.
The guide will show you the Palace of Emperor Peter III. This is a miniature structure that served for the rest of the Emperor. Modest from the outside, it is like a small box, filled with amazing interiors and works of art, almost unchanged preserved to this day.
Next, you will enjoy a pleasant walk through the magnificent landscape Park of the residence, which harmoniously combines a complex geometric pattern of alleys and paths, water maze of ponds, nature and architectural monuments, such as, for example, Sliding Hill pavilion, built by A. Rinaldi, where Catherine the Great held gala dinners attended by of the foreign guests.
You will see the Chinese Palace, which is part of the complex of Empress Catherine's "Own dacha". Chinese Palace began to be called so because Chinese motifs were used in its interiors, and here is a rich collection of items made by masters from China. There is no one repeating in any room, 18th floor made according to drawings by Rinaldi. A masterpiece of interior art is considered to be a glass -tiered Cabinet in the Chinese Palace. Its walls are decorated with 12 panels in carved gilded frames, on which flowers, landscapes, fabulous birds are embroidered on a glass — tiered basis with silk- all this looks fantastic! You will also see Chinese Kitchen pavilion and Picture House museum.
Please have a look at our guests' testimonials
Contact us. Please write the date of the tour, language, how many people, your wishes. We'll reply you soon.